Description
Characteristics of our 2D tiny house construction plans
The sets include several professional shots of all angles for models of 18 or 24 ' length :
• Plan from top (1st floor and mezzanine)
• Cross section
• Longitudinal section
• Plan roof trusses
• Isometric view of the roof
You can download the plans immediately after your payment. These are legal size (8.5 x 14 ") and is therefore very easily print from home.
Files to download:
• 2D Construction plans model tiny house Habitations MicroEvolution* – 1 189 Kb
or
• 2D construction plans 18 ft with dormer.pdf* – 672 Kb
Both construction plan are entirely in english. They were translated from french and have both metric and emperial units (meters, centimeters / feet, inch).
* PDF is a file format for presenting data. Use Adobe Reader (free) to read files.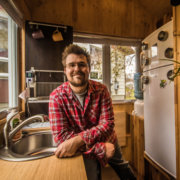 Gabriel Parent-Leblanc est biologiste et détenteur d'une maîtrise en gestion de l'environnement où il s'est spécialisé en construction écologique grâce à l'écriture de son mémoire. Il décide en 2014 de fonder la toute première entreprise québécoise à se spécialiser dans la construction de micromaisons sur roues (tiny houses). Depuis, il a construit sa propre micromaison et a assisté de nombreuses personnes dans leur auto-construction.