Description
Tiny house plans bundle characteristics
These items individually would cost you $ 229.85 (99.95 + 79.95 + $ 49.95). The bundle can be your for a price of $ 174.95, representing a discount of almost 25%! Exclusively with this buncle, you also get 266 photographs. These photographs were taken during the construction of our model unit and illustrate all the stages of construction.
Files to download:
• 2D Construction plans model tiny house Habitations MicroEvolution.pdf* – 1 189 Kb
• 3D plans.rar° – 59,4 Mb
→ 24 ft tiny house without interior design.skp† – 33,2 Mb
→ 24 ft tiny house with interior design.skp† – 50,6 Mb
• Construction steps 3D.rar° – 20,5 Mb
• Tableau matériaux et coûts anglais.pdf* – 387 Kb
• Tableau matériaux et coûts anglais outils.pdf* – 236 Kb
• Photos1.rar° – 55,3 Mb
• Photos2.rar° – 32,9 Mb
* PDF is a file format for presenting data. Use Adobe Reader (free) to read files.
° RAR is a file format for data compression. Use WinRAR (free) to decompress the files.
† 3D plans .skp format are files that can be manipulated with the free Google Sketchup. The program is relatively easy to use as it is for IT pros or beginners. Tutorials are offered on this page : http://www.sketchup.com/fr/learn/videos?playlist=58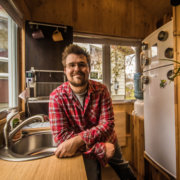 Gabriel Parent-Leblanc est biologiste et détenteur d'une maîtrise en gestion de l'environnement où il s'est spécialisé en construction écologique grâce à l'écriture de son mémoire. Il décide en 2014 de fonder la toute première entreprise québécoise à se spécialiser dans la construction de micromaisons sur roues (tiny houses). Depuis, il a construit sa propre micromaison et a assisté de nombreuses personnes dans leur auto-construction.